FIFA 17 TOTY: World 11 Players Revealed
fut16coin
Date: Jan/09/17 21:02:13
Views: 30
Now we know that best players of 2016 for FIFA 17 TOTY have been revealed. Ronaldo wins the "The Best FIFA Men's Player of 2016", who previously won 2016 Ballon d'Or. Congratulations! To celebrate this, EA is to release lots of packs, SBC's and daily gift.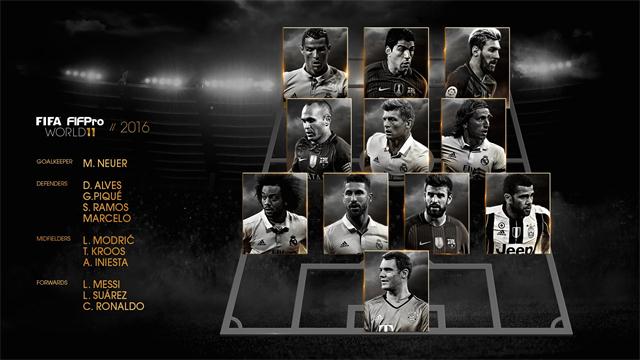 FIFA 17 TOTY - World 11 Players
Goalkeeper
Manuel Neuer (FC Bayern Munich)
Defenders
Gerard Pique (FC Barcelona)
Sergio Ramos (Real Madrid)
Dani Alves (Juventus)
Marcelo (Real Madrid)
Midfielders
Andres Iniesta (FC Barcelona)
Toni Kroos (Real Madrid)
Luka Modric (Real Madrid)
Forwards
Luis Suarez (FC Barcelona)
Cristiano Ronaldo (Real Madrid)
Lionel Messi (FC Barcelona)
Congratulations to these players. In addition, there are lighting rounds, Jumbo Rare Players Pack and Rare Mega Pack is available now with limited time. What's more, you get the chance to get TOTY forwards as they are available in packs now. These cards will be available until Wednesday (January 11). At the same time, SBC's for FIFA 17 TOTY are also released, complete the challenges to obtain the rewards. Daily gift is available on Companion app or Web app. Keep an eye on EA's twitter.
What do you think of these players? Do they deserve? Share your opinions with us. Pay attention to our online store fut16coin.com to get the latest news as well as cheapest fifa 17 coins. Have a nice day and enjoy the game.